Keratin Treatment Inner West Sydney
Keratin Smoothing Treatment
Ever wanted silky smooth, frizz-free hair without the hassle of blow drying or using the hot straightener? Chemical hair straightening, otherwise known as keratin smoothing or keratin treatments, may be your perfect solution.
This process aims to smooth out your hair, leaving it frizz free for weeks or months to come. It's a great option for those of you with long waves of voluminous hair. It's also a good option if you want a pixie or short cropped hair style yet are afraid to lose your length because of frizz. Many hairstylists now do a smoothing treatment before a major haircut. Even men are coming in for smoothing treatments now.
Keratin Treatment Price
For silky, swingy, frizz-free hair, come to Petersham Hair Co. 
All hair lengths
$300
We require your credit card details to secure your appointment. If you change, cancel or miss your appointment within 48 hours, you will be charged 50% of the service price.
Address: 3/31-33 New Canterbury Rd,
Petersham NSW 2049
Keratin Treatment Reviews
"Great keratin treatment!"
"Great salon . Great service 10/10"
"Aneez and the team at Petersham Hair Co are the ones you want to trust with all your hair and beauty."
"Aneez & the team are simply the best! Without a doubt the warmest welcome, most lovely experience and I absolutely LOVE my hair."
"I would 100% recommend! I visited the salon with very dry, unloved, spilt ends and just a frizzy hot mess. Aneez did wonders on my hair. Walked out feeling like a hair model. Great affordable prizes and value for money. Also one of the best head massages EVER ! I'll definetly be going back 10/10"
"I have been getting my hair styled by Karen for years, i would not trust my hair with anybody else! There's no better place to get your hair done, excellent service and a wonderful experience every time!"
"Absolutely love this place! Karen is so good at working out just what you want and takes care and time to get it right. Karen and Aneez are so welcoming and the place has a lovely friendly and welcoming vibe."
"I had excellent Keratin done at Petersham Hair Co, very good result and my hair looks healthy/shiny and easy to manage it. I'm happy from the result, for sure I will come back:)"
"Aneez was such a professional. He was knowledgable and explained the process of a Keratin treatment. He also gave me a great hair cut and did not go scissor crazy as some other hairdressers tend to do. He is easy to talk to and made the time go by so fast, making it an amazing experience."
5 Things to Know About Hair-Smoothing Keratin Treatments
Keratin Images
Have a look at our in-salon keratin treatment before and after images and finished treatment images below!
Before and After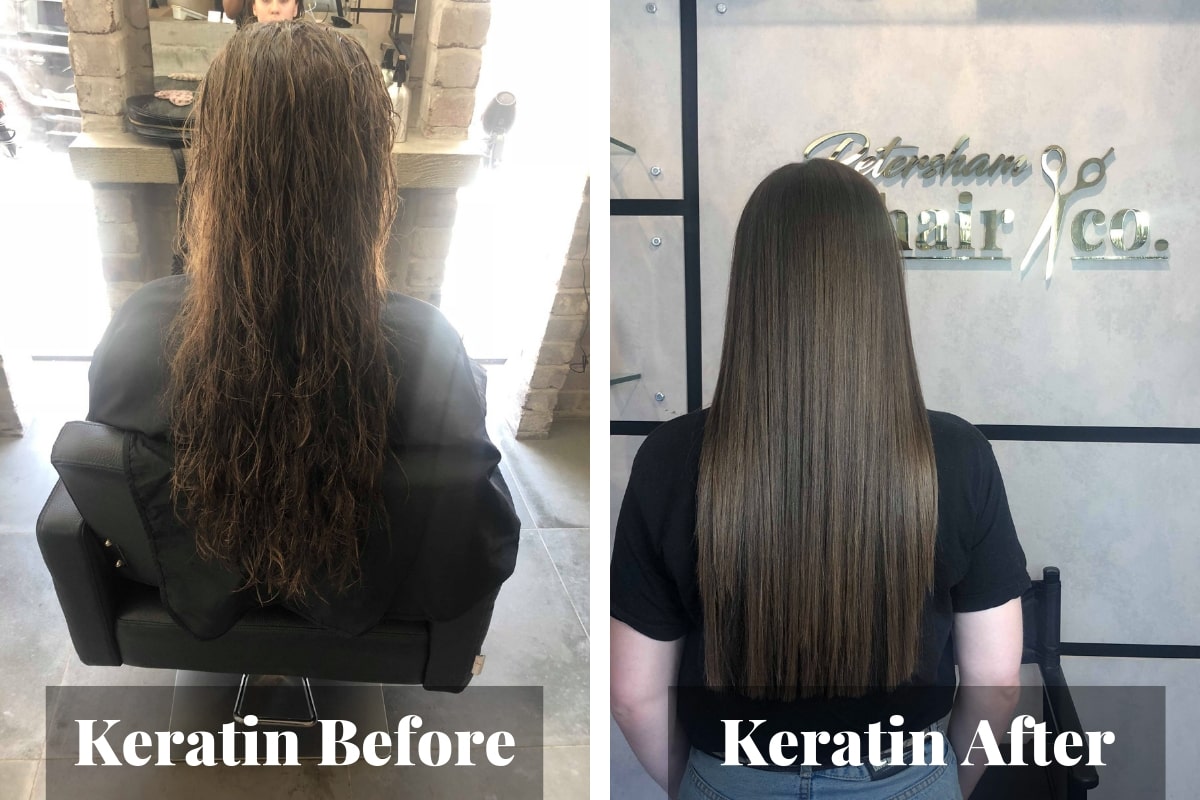 Finished Keratin Images
Keratin for summer time!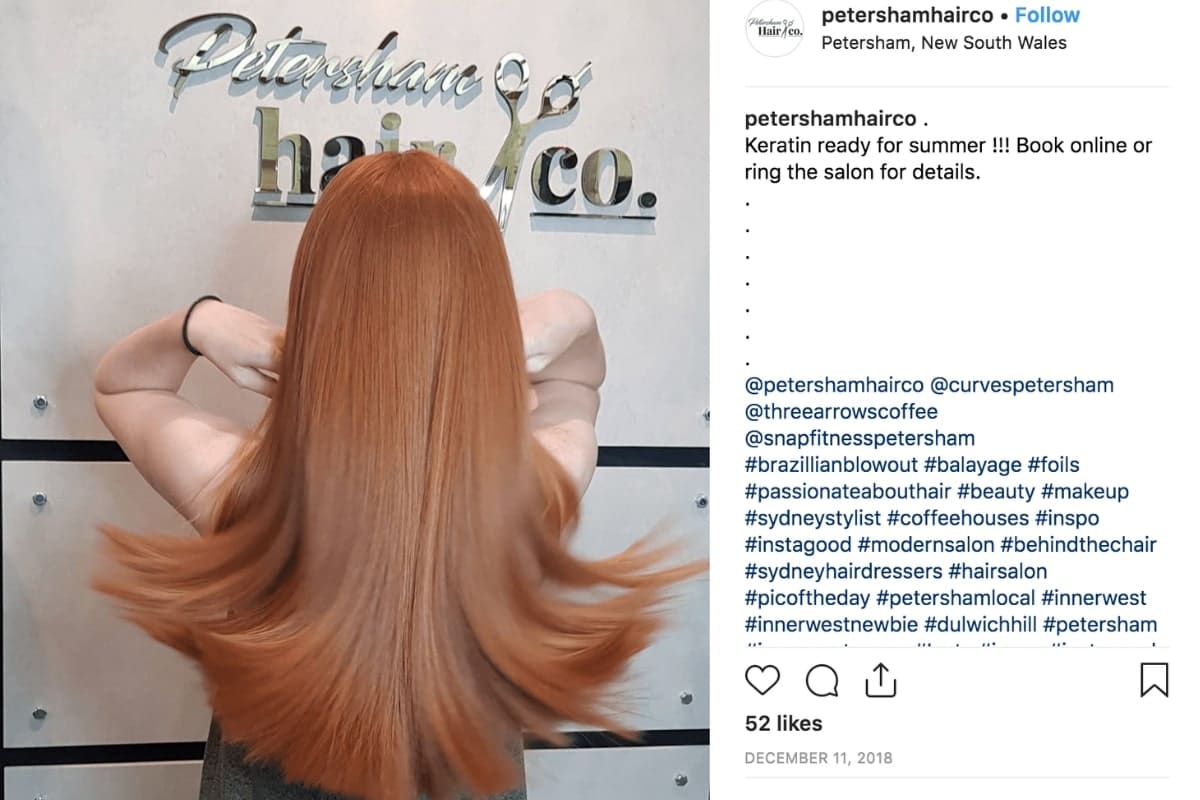 Keratin double take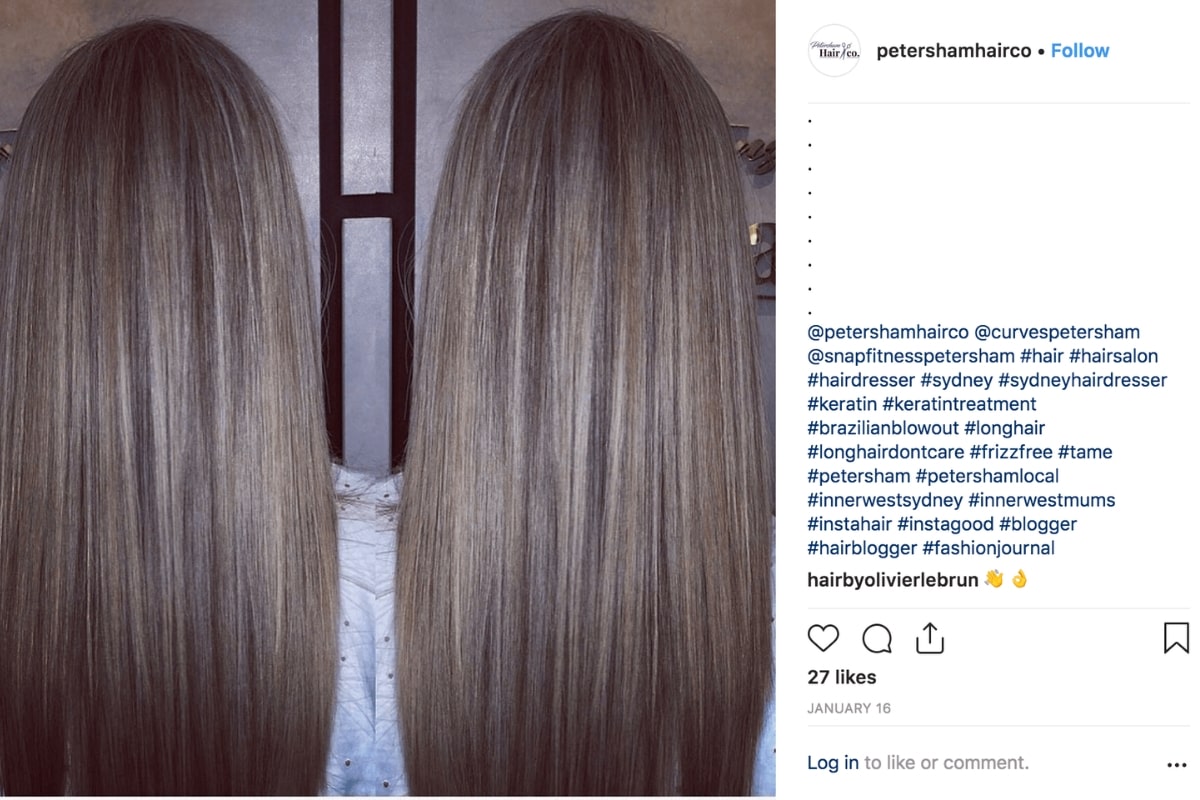 Smooth and silky keratin blowout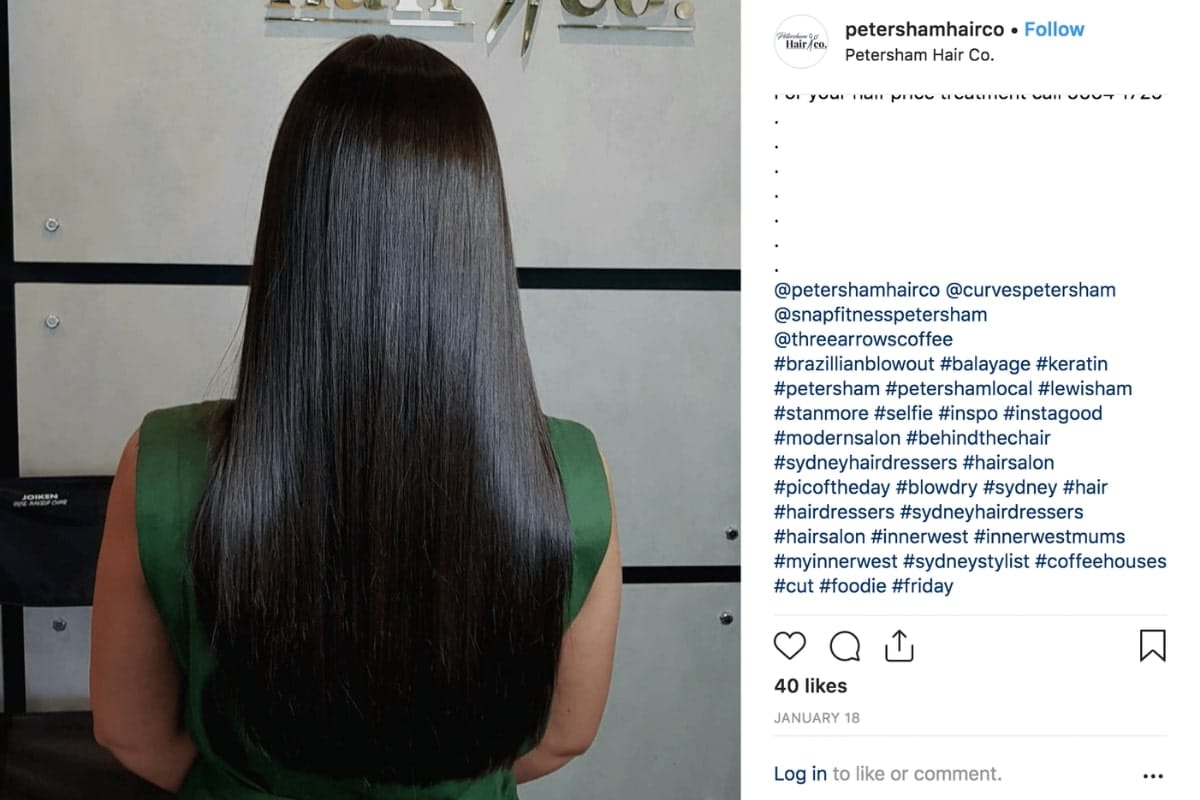 Get Your Hair Smoothing Facts Here
In the pursuit of smooth straight hair, there are a confusing number of alluring in-salon hair-smoothing treatments to choose from. We give you all the detail you need about smoothing keratin treatments on this page.  Here are the essential things you need to know!
1) You'll need a specialty shampoo
Any sulfate-free shampoo should help maintain your new smoothed style. We also offer speciality shampoo and treatment conditioners that help to maintain your frizz-free state for longer.
Note: stay away from beach-wave styling products as they often contain sulfates and salts that cause your hair to frizz or gently curve.
2) Do at-home keratin treatments work?
You can get a slight smoothing effect from at-home treatments, however don't expect them to last. You see, most at-home hair smoothing treatments don't interact with the natural bonds in your hair, meaning they are less effective. Whereas salon keratin treatments break the natural bonds that cause your hair to go curly, at-home treatments tend to just coat the hair fibre with a barrier like silicone. This keeps humidity from entering: a known frizz factor. As with any specialty service, you are paying for the technician's professional experience and knowledge, and ultimately for results.
3) How long will my keratin last for?
Generally, we see clients get 3-4 months value from their keratin treatments. If you have shorter hair, you will notice your normally curly or frizzy hair growing out more than you would with long flowing hair. Our treatments generally last 3-4 months.
4) Does keratin actually straighten hair?
'Keratin treatment' is used as the buzzword to describe the chemical process by which a hair-smoothing treatment leaves your hair frizz-free. The chemical process behind a smoothing treatment works like this: think of straight hair as a ladder and curly hair as a spiral staircase. The steps on each are like your hair's bonds. When you break those bonds, the spiral staircase becomes a ladder, so curly or frizzy hair becomes straighter and smoother.
Think of a keratin treatment as a hair smoothing treatment. Using a hot iron, like a GHD, also straightens the hair, using heat in this case, but the effect only lasts a day or two.
5) Can I colour my hair after a keratin treatment?
Generally, no, you can't colour your hair after a keratin treatment. The hair colour, if applied after your keratin, may interfere with the underlying keratin treatment.
We recommend you get a colour treatment on the same day but before your keratin, otherwise it's recommended to wait two weeks until you can colour over your keratin.
Service Areas
We proudly service Petersham, Lewisham, Stanmore, Leichhardt, Enmore, Marrickville and much of the Inner West.
Keratin Treatment
Contact Petersham Hair Co Today
If you're looking for a new local salon, come to Petersham Hair Co and experience what sets us apart from all the rest.
Phone to book:
(02) 9564 1729
Visit Our Salon
Come and see why our reviews are so good – we just love our clients!